SYMPOSIUM IV - WATCH THE REPLAY
Freedom is the Cure: Unpacking and Defeating the Medical Tactics of a World Takeover
Dear Doctors for Covid Ethics subscribers and friends,
Thank you for your ongoing interest in our endeavours. We hope that you have been finding information of interest and assistance to you on our website and Telegram channel, where we continue to provide honest, independent scientific analysis in the face of a global onslaught of weaponized 'science'.
To that end, today we bring you the first session in our most recent symposium, held on June 11th 2022, titled, Freedom is the Cure: Unpacking and Defeating the Medical Tactics of a World Takeover, generously hosted by UK Column, and in collaboration with Children's Health Defense. At this our fourth symposium we brought together experts in science, medicine, psychiatry, finance, journalism and the law, to place the abuses of science surrounding COVID-19 in the context of a rapidly escalating global power grab, and against a backdrop of historical abuses by the medical profession. You can read about the symposium contributors here.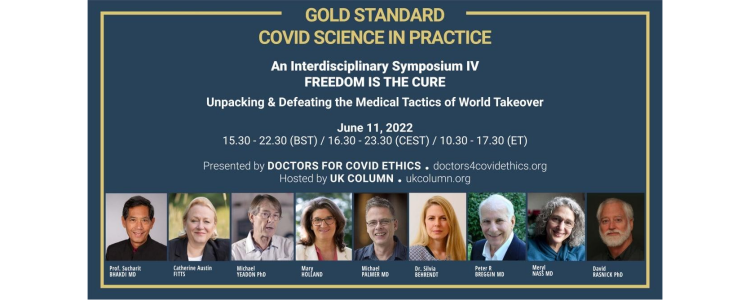 We have divided each session into individual presentations for you to watch and share at your leisure, summarised with links below. Meanwhile, if there just is one piece of information we hope you will take away from this event, to share with your family and friends, it is this:
mRNA vaccines pose a serious threat to mankind
During Session 1, eight speakers across six segments expanded upon this crucial theme, covering scientific, medical and clinical aspects, the underlying regulatory fraud, and legal implications.